THE AVESTAGENOME PROJECT™ Needs Every Parsi's Help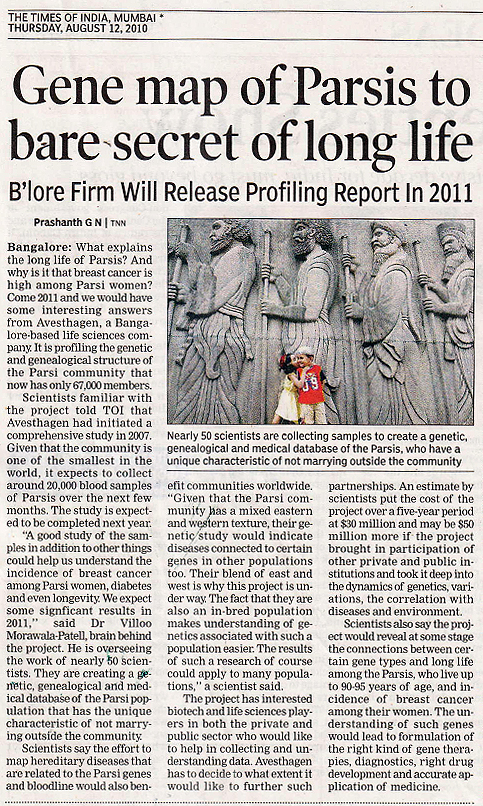 THE AVESTAGENOME PROJECT™ is a large-scale biological study that has as its main goal the search for the basis of Longevity and the higher incidence of certain diseases seen in the Parsi/Irani-Zoroastrian population. In addition the study will result in archival of the genome of the population and the creation of a medical database of the Parsi/Irani-Zoroastrian community. The output from this study will lead to molecular diagnostics and drug targets for predictive, preventive personalized healthcare for the community and the world.
THE AVESTAGENOME PROJECT™ is undertaken by a leading biotechnology company Avesthagen Ltd. (Bangalore) whose Founder, Chairman and Managing Director is our very own Navsari born entrepreneur, Dr. Villoo Morawala-Patell.
The study would also look into the increased incidence of certain diseases such as Cancers, Diabetes, Heart related ailments, Alzheimer's, etc. which will aid in developing novel drugs and diagnostics. The age group for blood collection is 18+ to 90+ years.
With this aim in mind we seek your support and co-operation on this project. Please come forth and donate a sample of your blood at our blood collection center. In doing so, please be assured that there will be no risk to your overall health. All the information provided by you will be kept strictly confidential.
We once again urge you to turn up, in large numbers, between the date and time listed below at your convenience, and help us in this very unique but essential scientific endeavor, which, you will agree, is a rare opportunity, for doing better for our future generations.
Venue: Delhi Parsi Anjuman, Bahadur Shah Zafar Marg, Delhi Gate, New Delhi 110 002
Blood collection dates: 7th August to 11th August 2010